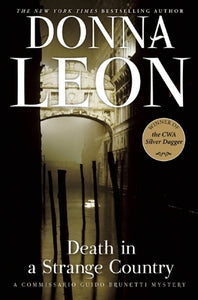 Death in a Strange Country: A Commissario Guido Brunetti Mystery (Used Paperback) - Donna Leon
The body of Sgt. Michael Foster, an American public health inspector at the American military base in Vincenza, has been found floating in one of the Venetian canals. Brunetti's superior would like nothing better than to have the case buried, because the idea of an American being killed in Venice would damage the tourist trade. Dr. Peters, a doctor at the Vincenza base, comes to Venice to identify the body in the morgue. She is sick when she sees how the man had been killed, by a knife plunging directly through the ribs into the heart. A strange reaction for a doctor, Brunetti thinks.

Brunetti pretends to believe that the murder must have been committed elsewhere - so he can be authorized to travel to the man's post and investigate. There, he finds a large quantity of cocaine poorly hidden in the dead soldier's apartment, after it had been thoroughly searched by the military authorities. The case becomes more complicated as both he and the Carabinieri major are politely warned off the case after they discover a connection between the dead soldier, a sick boy, contracts for the disposal of toxic waste, Brunetti's father-in-law, and the ostensible suicide by heroin overdose of Dr. Peters, not to mention the theft of some famous paintings from a prominent businessman.
---