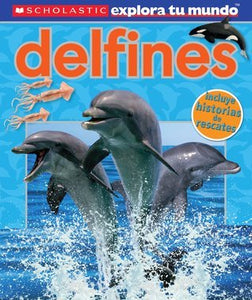 Delfine (Used Hardcover) - Penelope Arlon
An up-to-date introduction to these highly intelligent creatures.

DOLPHINS focuses on the latest dolphin information, as well as including essential facts. The book introduces anatomy, distribution, life cycle, and feeding habits appropriately for the newest science readers. There are amazing new stories about dolphins' behavior, from their use of language to rescuing stranded friends and sharing tools! Exclusive images engage children with these famous and fascinating animals.

DELFINES contiene la información más actualizada y datos esenciales sobre los delfines. El libro ofrece una introducción a la anatomía, el ciclo de vida y los hábitos alimenticios de estos animales a un nivel apropiado para los jóvenes lectores. Además, brinda historias increíbles de rescates y de cómo se comunican estos animales. Las imágenes exclusivas mantendrán fascinados a los lectores.
0625MWL
---