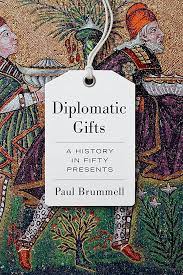 Diplomatic Gifts: A History in Fifty Presents (Used Hardcover) - Paul Brummell
Gifts have been part of international relations since ancient times. They can serve as tokens of friendship, apology or authority; as taunts, bribes, boasts or tricks. They can also go Mali's 2013 gift of a camel to French President Francois Hollande was reported to have ended up in a tagine.

Exploring fifty diplomatic gifts given through the ages, Brummell explains the great complexity of this political art--an exercise in brand-building for the giver, via an item that must suit the recipient's own interests and character. Byzantine emperors sent fragments of the True Cross to fellow Christian rulers around Europe; Kings Louis XV and XVI of France used Sevres porcelain, while the Ottoman sultans favoured robes of honour. In some cases, recipients have made no secret of the gift they would want. The Amarna Letters, dating to around 1350 BCE, record a communication from Hittite Prince Zita to the Egyptian Pharaoh, offering sixteen men--and hinting rather heavily that he would like some gold in return.

From the Trojan Horse to Cleopatra's Needle to the Statue of Liberty, this rich history offers a new take on both the curious detail and the grand spectacle of global politics.
0715NVB
---