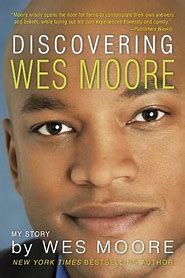 Discovering Wes Moore (Used Book) - Wes Moore

Two men. One overcame adversity. The other suffered the indignities of poverty. Their stories are chronicled in Discovering Wes Moore, a book for young people based on Wes Moore's bestselling adult memoir, The Other Wes Moore.
 
The story of "the other Wes Moore" is one that the author couldn't get out of his mind, not since he learned that another boy with his name—just two years his senior—grew up in the same Baltimore neighborhood. He wrote that boy—now a man—a letter, not expecting to receive a reply. But a reply came, and a friendship grew, as letters turned into visits and the two men got to know each other. Eventually, that friendship became the inspiration for Discovering Wes Moore, a moving and cautionary tale examining the factors that contribute to success and failure—and the choices that make all the difference.
Paperback
---