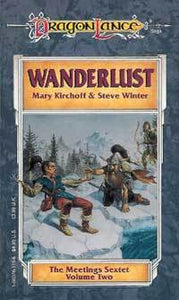 Dragonlance Meetings Bundle #10 (Lot of 5 Used Paperbacks)
Books 2-6 in the Dragonlance Meetings series!
Wanderlust - Mary Kirchoff & Steve Winter
Dark Heart - Tina Daniell
The Oath and the Measure - Michael Williams
Steel and Stone - Ellen Porath
The Companions - Tina Daniell
Condition: Used books in Good or better condition. Some slight shelf wear to spine. 
Mass Market Paperbacks
---