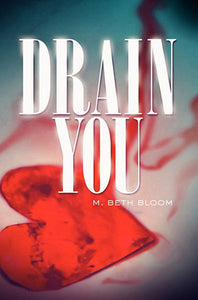 Drain You - M. Beth Bloom
Every night I'd lie there in bed and look out at the hills behind our house, listening. I knew there'd be consequences.

Actions meant reactions. Sunrises meant sunsets. My fear was too permanent, lasting longer than eyeliner, something I wore every day and didn't wash off.

Quinlan Lacey's life is a red carpet of weird fashions, hip bands, random parties, and chilling by the pool with her on-and-off BFF Libby. There's also her boring job (minimum wage), a crushed-out coworker (way too interested), her summer plans (nada), and her parents (totally clueless). Then one night she meets gorgeous James, and Quinn's whole world turns crazy, Technicolor, 3-D, fireworks, whatever.

But with good comes bad and unfortunately, Quinn's new romance brings with it some majorly evil baggage. Now, to make things right, she has to do a lot of things wrong (breaking and entering, kidnapping, lying, you name it).

There's normal, and then there's paranormal, and neither are Quinlan's cup of Diet Coke. Staying sane, cool, in love, and alive isn't so easy breezy.
Paperback
0925LFM
---