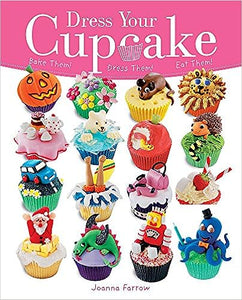 Dress Your Cupcakes (Used Paperback) - Joanna Farrow
Cupcakes are delicious irresistible treats that are easy to make and yummy to eat. Following the successful Dress Your Gingerbread, Dress Your Cupcake is another fun and colorful title that provides a new "dress up" twist on the continuing cupcake craze.

Dress Your Cupcake provides the ultimate fun in the kitchen as you learn how to create cupcakes with a little personality and a lot of style. Choose from a whole host of fun, friendly faces and designs - human, animal and recognizable objects - to create a collection of memorable and truly individual cupcakes. The book contains 50 fun designs for deliciously decorated cupcakes and includes the perfect party pieces for Christmas, Easter, Halloween, and more. With ideas for both kids and grown-ups, playing with your food has never been so much fun!

Containing a comprehensive introduction, easy-to-follow instructions on how to ice and decorate your cakes and information on all the techniques, recipes and templates you will need, Dress Your Cupcake is sure to inspire even the most novice of bakers to get creative with their cupcakes.
0724RT
---