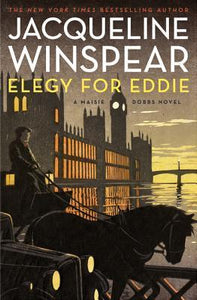 Elegy for Eddie (Used Book) - Jacqueline Winspear
Early April, 1933.

Maisie's newest clients are the costermongers of Covent Garden, men who sell fruit and vegetables from horse-drawn carts on the streets of London. To the costers, Eddie Pettit was simply a gentle soul with a near-magical gift for working with horses, and when he is killed in a violent accident, the costers are skeptical about the cause of his death. Because her father, Frankie, had been a fellow costermonger, Maisie has known these men since childhood and remembers Eddie fondly, so she is determined to help, but it soon becomes clear that powerful political and financial forces are equally determined to prevent her from learning too much about Eddie's death.

Maisie's search for answers begins in the working-class streets of Lambeth—where Eddie lived, and where she grew up—but quickly leads her to a callous press baron, a "has been" politician named Winston Churchill lingering in the hinterlands of power and, most surprisingly, to Douglas Partridge, the husband of her dearest friend, Priscilla. As Maisie uncovers lies and manipulation on a national scale, she must decide whether to risk all to see justice done.

The story of a London affected by the march to another war years before the first shot is fired, and of an innocent victim caught in the shadow of power, Elegy for Eddie is Jacqueline Winspear's most poignant and affecting novel yet.
Hardcover
---