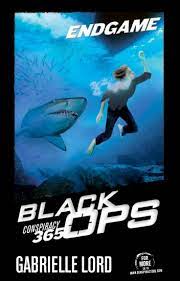 Endgame (Used Hardcover) - Gabrielle Lord
Don't blink, don't forget to breathe!

Shadow Island's volcano is erupting and Cal and Ryan are trapped on the island with the evil Damien Thoroughgood, who will stop at nothing to fulfil his deadly plan. After surviving in the jungle and outwitting his enemy for so long, Cal risks losing his brother and everything he's worked towards.

Will Cal agree to a criminal mission to save his brother's life? Or will he stop Damien from unleashing earth-shattering evil?
The clock is ticking. Any second could be his last.

Cal Ormond has been warned.
He has 30 days.
The countdown ends...
0803NVB
---