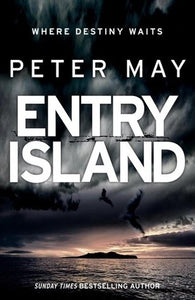 Entry Island (Used Book) - Peter May
When Detective Sime Mackenzie boards a light aircraft at Montreal's St. Hubert airfield, he does so without looking back. For Sime, the 850-mile journey ahead represents an opportunity to escape the bitter blend of loneliness and regret that has come to characterise his life in the city.

Travelling as part of an eight-officer investigation team, Sime's destination lies in the Gulf of St. Lawrence. Only two kilometres wide and three long, Entry Island is home to a population of around 130 inhabitants - the wealthiest of which has just been discovered murdered in his home.

The investigation itself appears little more than a formality. The evidence points to a crime of passion: the victim's wife the vengeful culprit. But for Sime the investigation is turned on its head when he comes face to face with the prime suspect, and is convinced that he knows her - even though they have never met.

Haunted by this certainty his insomnia becomes punctuated by dreams of a distant past on a Scottish island 3,000 miles away. Dreams in which the widow plays a leading role. Sime's conviction becomes an obsession. And in spite of mounting evidence of her guilt he finds himself convinced of her innocence, leading to a conflict between the professonal duty he must fulfil, and the personal destiny that awaits him.
Hardcover
0920SR
---