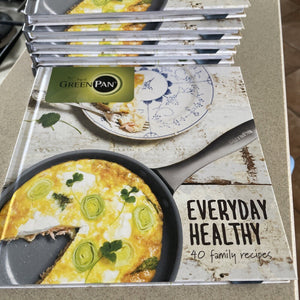 Everyday Healthy (Used Hardcover)- Original Pan
Satisfy your soul with these delicious and wholesome favorites from the kitchen of GreenPan to yours.
This cookbook brings together 40 easy, all-time international family recipes, from the simplest Sloppy Joe's to a quick Veggie Chili, to the easiest French Apple Pie ever. And the good thinkg is that no one will guess that these home-cooked, delicious classics are healthy, lightened versions of the cherished dishes.
0918RT
---