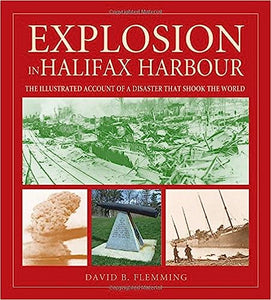 Explosion in Halifax Harbour (Used Paperback) - David B. Flemming
On the morning of December 6, 1917, the residents of Halifax's North End witnessed first-hand the terrifying destruction of the First World War when a fully loaded munitions ship collided with a larger relief ship, caught fire and then exploded in the harbour. The blast laid waste a huge residential area as well as the waterfront and several factories.
This book offers a definitive account of the explosion and its aftermath, and the most extensive collection of images -- many in colour -- available in print.
David Flemming recreates the scene on the water when the ships collided and on the waterfront where people watched the fire, and describes how resources were stretched to the limit to create temporary hospital and morgues. He recounts how the Explosion was handled by authorities, how blame was
shouldered and avoided. He explains the ironic twist that led to the explosion being used to calibrate the bombs that
wrought even worse devastation at Hiroshima and Nagasaki in 1945.
0626RT
---