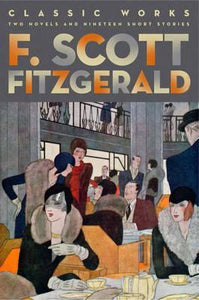 F. Scott Fitzgerald: Classic Works : Two Novels and Nineteen Short Stories (Used Hardcover) - F. Scott Fitzgerald
No writer portrayed America's Roaring Twenties as vividly as F. Scott Fitzgerald. In his effervescent tales of elegant ingenues on the prowl for husbands, Ivy League heirs en route to futures of idle entitlement, and endless alcohol-fueled dance parties at ritzy country clubs, he limned a culture giddy with excess and as reckless as it was refined. Gifted with remarkable powers of observation and a witty way with words, Fitzgerald wrote stories that seem as fresh and modern today as they did when published nearly a century ago.

F. Scott Fitzgerald: Classic Works features two full-length novels--This Side of Paradise and The Beautiful and Damned--and nineteen short stories, including the classics "Bernice Bobs Her Hair," "The Diamond as Big as the Ritz," and "The Curious Case of Benjamin Button." Written as only they could be by an insider to the society that they protray, the twenty-one works collected in this volume capture the precarious splendor and doomed glory of that opulent era that their author called the Jazz Age.
0829RM
---