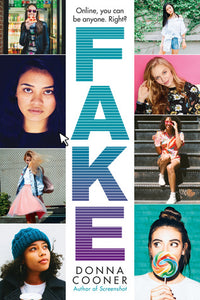 Fake (Used Book) - Donna Cooner
From acclaimed author Donna Cooner comes this gripping and timely story about identity, revenge, and the lies -- and truths -- we tell online.

Maisie Fernandez is fed up. Fed up with the bullies who taunt her about her size and her looks. Fed up with being the butt of everyone's jokes.

So, one night, Maisie goes online and creates a fake profile. "Sienna" is beautiful, skinny, and confident -- and soon she's messaging the most popular kids in Maisie's school. Maisie doesn't care about being friends with them. She wants to use Sienna to take them down.

But as Maisie's web of deception grows, she's in danger of being exposed. And what will happen when the actual Sienna -- the girl whose photos Maisie has been using -- shows up in real life?
Paperback
1001CR
---