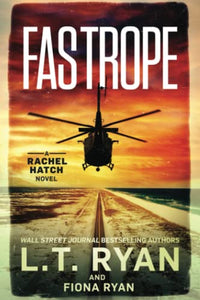 Fastrope (Used Paperback) - L.T. Ryan & Fiona Ryan
The Wall Street Journal bestselling Rachel Hatch thriller series continues in a new riveting mystery!

Hatch closed a major chapter in her life. Drifting between everywhere and nowhere, she seeks to find her new path. Like any pathfinder, Hatch cuts through the pain of her past one step at a time.

A desperate call from an old friend brings her to Florida's panhandle. Before Hatch can connect, tragedy strikes. A helicopter training accident off the shore of Naval Air Station Pensacola takes the life of her friend and seasoned operator. All she has to go on is the cryptic message, leaving her with more questions than answers.

When the pieces of the puzzle don't fit, Hatch must satisfy her own curiosity. There are some who don't want the truth to be exposed and will do everything in their power to stop it from coming to the surface.

As Hatch turns every stone, she slips deeper into dark territory. Surrounded by enemies. Hatch must deploy the skills that have made her legend.

Follow Hatch down the Fastrope and prepare for yourselves for the hell she brings upon those who force her to once again honor the code instilled by her father. Protect those who can't protect themselves and punish those responsible.
0815RM
---