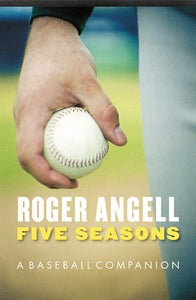 Five Seasons: A Baseball Companion (Used Paperback) - Roger Angell
Five Seasons covers the baseball seasons from 1972 through 1976, described as the "most significant half decade in the history of the game." The era was notable for the remarkable individual feats of Hank Aaron, Lou Brock, and Nolan Ryan, among others. It also presented one of the best World Series of all time (1975), including still the greatest World Series game ever played (Game Six). Along with visiting other games and campaigns, Roger Angell meets a trio of Tigers-obsessed fans, goes to a game with a departing old-style owner, watches high-school ball in Kentucky with a famous scout, and explores the sad and astounding mystery of Steve Blass's vanished control. Angell's Five Seasons is a gem and a gift for baseball lovers of all ages.
Condition: Used book in Very Good condition.
---