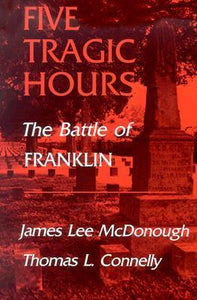 Five Tragic Hours (Used Hardcover) - James Lee McDonough & Thomas Lawrence Connelly
On a November afternoon in 1864, the weary General John Bell Hood surveyed the army waiting to attack the Federals at Franklin, Tennessee. He gave the signal almost at dusk, and the Confederates rushed forward to utter devastation. This book describes the events and causes of the five-hour battle in gripping detail, particularly focusing on the reasons for such slaughter at a time when the outcome of the war had already been decided. The genesis of the senseless tragedy, according to McDonough and Connelly, lay in the appointment of Hood to command the Army of Tennessee. It was his decision to throw a total force of some 20,000 men into an ill-advised frontal assault against the Union troops. The Confederates made their approach, without substantial artillery support, on a level of some two miles. Why did Hood select such a catastrophic strategy? The authors analyze his reasoning in full. Their vivid and moving narrative, with statements from eyewitnesses to the battle, makes compelling reading for all Civil War buffs and historians.
Condition: Used book in Very Good condition.
---