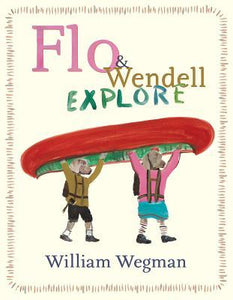 Flo & Wendell Explore (Used Book) - William Wegman
Flo thinks the family's last vacation together was just grand. Her little brother, Wendell, thinks it was absolutely terrible. So, being the good big sister that she can sometimes be, Flo has agreed to take Wendell on his very own camping adventure. They're going to go canoeing, fishing, and hiking—well, as best they can in the comfort of their neighborhood.

In this follow-up to Flo & Wendell, Wegman's celebrated return to children's books, he again combines his signature Weimaraner photography with whimsical paintings. The result is a satisfying and kid-friendly picture book that will remind readers that camping is always an adventure—even when it's close to home.
Hardcover
1222DS
---