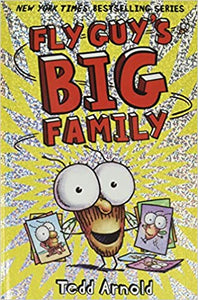 Fly Guy's Big Family (Used Book) - Tedd Arnold
In the bestselling Fly Guy series, it's Fly Guy's family reunion surprise!
In the latest installment of Tedd Arnold's New York Times bestselling Fly Guy series, Fly Guy misses his family. So when Fly Guy's not looking, Buzz plans him a surprise party and invites his whole family-including all his brothers, sisters, aunts, uncles, cousins, and mother and father. When the time comes for the party, will Fly Guy be surprised?Readers will love reading this fun, zany story about Fly Guy's big family and all the Fly Guy books!
Hardcover
0912BJS

---