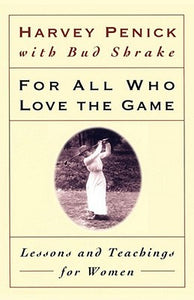 For All Who Love the Game: Lessons and Teachings for Women (Used Book) - Harvey Penick, Bud Shrake
EVERY WOMAN CAN PLAY GREAT GOLF
Known in the world of golf as one of the game's greatest teachers, Harvey Penick worked with U.S. Open winners, great champions, and five out of the thirteen women who are members of the LPGA Hall of Fame. Mickey Wright, Sandra Palmer, Betsy Rawls, Kathy Whitworth, Judy Rankin, and Betty Jameson all had the privilege and honor of working with Penick. While he was proud of their success and achievements, Penick took just as much pleasure from the accomplishments of the countless women who came to him hoping only to be able to hit a ball in the air for the very first time.
In For All Who Love the Game, Harvey shares the lessons he's learned from female golfers: techniques to help women gain greater physical and psychological power, advice on the perfect swing, and tips for developing areas of the game where women can and should outplay their male counterparts. Interwoven with Penick's ever-present blend of common sense and insight, For All Who Love the Game is a gift to every woman who wants to enjoy the game of golf to its fullest.
Paperback
0218xBC
---