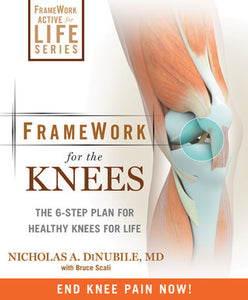 FrameWork for the Knee: A 6-Step Plan for Preventing Injury and Ending Pain (Used Paperback) - Nicholas A DiNubile
Musculoskeletal conditions are the #1 reason for doctor visits among Americans. No one knows the concerns of patients afflicted with these bone, muscle, and joint issues better than Dr. Nicholas DiNubile. As the orthopedist to the Philadelphia 76ers, he presented his plan for treating and preventing general pain without surgery or drugs in his first book, FrameWork .
Now, in the second installment of his Active for Life series, Dr. DiNubile turns his attention to the estimated 21 million Americans who suffer from chronic knee pain. Beginning with an in-depth look at the causes of common knee injuries, Dr. DiNubile provides diagnostic tools for assessing pain. His 7-step plan for treating the injury, rehabilitating the area, eating to aid healing, and protecting the knee allow you to continue enjoying your favorite activities.
Knee pain and injury don't have to mean the end of an active lifestyle. All it takes is a balanced, customized program designed to address patient-specific needs. FrameWork for the Knees provides anyone suffering from these issues with the tools to be active for life.
---