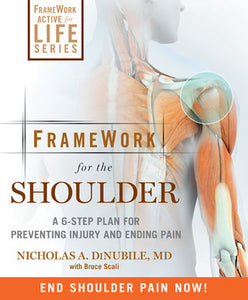 FrameWork for the Shoulder: A 6-Step Plan for Preventing Injury and Ending Pain (Used Paperback) - Nicholas A DiNubile
Though today's doctors examine just as many achy, injured shoulders as they do problematic knees and backs, only recently have advances in medicine and technology revealed the true functional anatomy of the shoulder and how it can become damaged and imbalanced. In the final installment of his Active for Life series, orthopedic surgeon and bestselling author of FrameWork and FrameWork for the Knee Dr. Nicholas DiNubile embarks on this new frontier of shoulder knowledge to explain how best to care for yours—without surgery or drugs.
Based on the time-tested FrameWork philosophy that exercising the entire body is key to fortifying and balancing every joint, FrameWork for the Shoulder provides a 6-step plan for understanding your shoulder strengths and weaknesses and creating your own healing fitness and lifestyle program. Dr. DiNubile draws on the latest medical research to outline the basic mechanics of the shoulder and its potential for failure and offers diagnostic tools for assessing and treating pain and injury. After completing a straightforward shoulder health assessment, you will discover simple, innovative exercises you can perform at home or at the gym, as well the most effective nutrition and lifestyle guidelines for extending your frame's warranty. If you are an athlete, you will learn to improve your sports performance and enhance your recovery.
Whether you are ready to conquer the persistent shoulder discomfort that is keeping you from enjoying everyday activities, bounce back from an injury, or simply keep your joints in shape as you age, FrameWork for the Shoulder is your ultimate, customized plan for achieving lasting shoulder and full-body health.
---