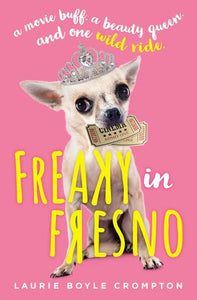 Freaky in Fresno (Used Book) - Laurie Boyle Crompton
Ricki has one goal: save the Starlight Drive-in movie theater from going dark forever. Okay, make that two goals … she may also want a first kiss from her cinema-rescuing partner and major crush, Jake. Lana definitely has only one goal: grow her online makeup channel to keep her momager off her back, even if the posts attract ugly internet trolls.

The two cousins couldn't be more different, but their opposite personalities come crashing to a head when their aunt gifts the girls a vintage cotton-candy-pink convertible. To share. Ricki wants the convertible for the drive-in's grand reopening, but it's the same day as Digifest, a huge event where Lana needs to shine. After a major fight and a minor electric shock while wrestling over the wheel, Ricki wakes up as Lana, and Lana wakes up as Ricki.

Ricki and Lana have only a day to un-Freaky Friday themselves, a task made even more difficult as they try to keep up appearances on Lana's channel and with Ricki's hopefully-soon-to-be-kissed crush. But it turns out experiencing a day as each other—with a mini road trip in the Skylark and the Chihuahua wrangling it entails—may be the one thing that help the cousins see each other and themselves more clearly.

From Laurie Boyle Crompton, author of Pretty in Punxsutawney, comes Freaky in Fresno, perfect for fans of Mary Rodgers and Morgan Matson.
Hardcover
0124CR
---