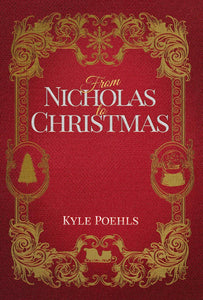 From Nicholas To Christmas (Used Book) - Kyle Poehls
Centuries ago, Nicholas and his family lived a normal life. He had no idea that one day he would journey across the world, stopping at each good-spirited child's home and bestowing them with gifts on one night each yeah. That didn't start until he met a little girl named Mary in a poor and deprived town. On this adventure, you see the traditions of Christmas spring into life. In a town of despair, Christmas spirit emerged.

"From Nicholas To Christmas" is the story of a man named Nicholas BEFORE he became Santa Claus— and before Christmas even existed. Learn the origins of this cherished day and discover the beginning of our traditions.
Hardcover
0413DS
---