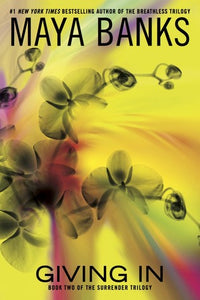 Giving in - Maya Banks
Kylie sees the way Jensen looks at her. The dark promise in his eyes. That rough edge of dominance she knows he possesses. But dominance is the one thing that frightens her above all else. She and her brother barely survived a childhood steeped in violence and abuse. She could never give up total control and submit to a man. Especially a man like Jensen. Could she?

Jensen sees the shadows in Kylie's eyes. Knows he has to tread very carefully or risk losing any chance he has with her. All he wants is the opportunity to show her that dominance doesn't equal pain, bondage or discipline. That emotional surrender is the most powerful of all, and that to submit—fully to him—will fulfill the aching void in her heart in a way nothing else ever will. 
Surrender Trilogy #2

Paperback
0925LFM
---