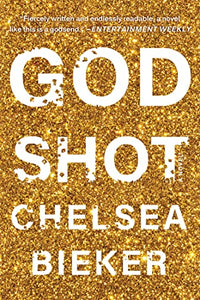 Godshot (Used Book) - Chelsea Bieker
Drought has settled on the town of Peaches, California. The area of the Central Valley where fourteen-year-old Lacey May and her alcoholic mother live was once an agricultural paradise. Now it's an environmental disaster, a place of cracked earth and barren raisin farms. In their desperation, residents have turned to a cult leader named Pastor Vern for guidance. He promises, through secret "assignments," to bring the rain everybody is praying for.

Lacey has no reason to doubt the pastor. But then her life explodes in a single unimaginable act of abandonment: her mother, exiled from the community for her sins, leaves Lacey and runs off with a man she barely knows. Abandoned and distraught, Lacey May moves in with her widowed grandma, Cherry, who is more concerned with her taxidermy mice collection than her own granddaughter. As Lacey May endures the increasingly appalling acts of men who want to write all the rules, and begins to uncover the full extent of Pastor Vern's shocking plan to bring fertility back to the land, she decides she must go on a quest to find her mother, no matter what it takes. With her only guidance coming from the romance novels she reads and the unlikely companionship of the women who knew her mother, she must find her own way through unthinkable circumstances.

Possessed of an unstoppable plot and a brilliantly soulful voice, Godshot is a book of grit and humor and heart, a debut novel about female friendship and resilience, mother-loss and motherhood, and seeking salvation in unexpected places. It introduces a writer who gives Flannery O'Connor's Gothic parables a Californian twist and who emerges with a miracle that is all her own. 
Paperback
0404ML

---