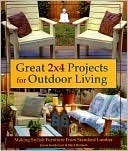 Great 2 X 4 Projects for Outdoor Living (Used Book) - Stevie Henderson
Sturdy, stylish outdoor furniture that you can make yourself!
There's no need to spend a fortune on pre-made wooden furniture for your yard or deck. With the dozens of easy projects here, you'll construct all kinds of charming furnishings and accessories, from chairs, tables, and outdoor storage centers to planters, trellises, and window boxes.
Paperback
---