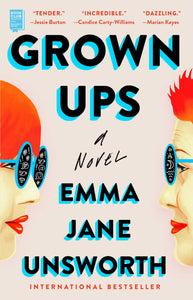 Grown Ups (Used Paperback) - Emma Jane Unsworth
Jenny McLaine's life is falling apart. Her friendships are flagging. Her body has failed her. She's just lost her column at The Foof because she isn't the fierce voice new feminism needs. Her ex has gotten together with another woman. And worst of all: Jenny's mother is about to move in. Having left home at eighteen to remake herself as a self-sufficient millennial, Jenny is now in her thirties and nothing is as she thought it would be. Least of all adulthood.

Told in live-wire prose, texts, emails, script dialogue, and social media messages, Grown Ups is a neurotic dramedy of 21st-century manners for the digital age. It reckons with what it means to exist in a woman's body: to sing and dance and work and mother and sparkle and equalize and not complain and be beautiful and love your imperfections and stay strong and show your vulnerability and bake and box...

But, despite our impossible expectations of women, Emma Jane Unsworth never lets Jenny off the hook. Jenny's life is falling apart at her own hands and whether or not she has help from her mother or her friends, Jenny is the only one who will be able to pick up the pieces and learn how to, more or less, grow up. Or will she?
0809LO
---