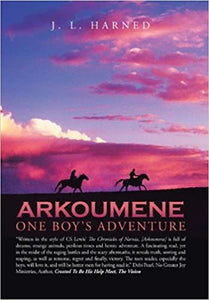 Arkoumene: One Boy's Adventure (used book) - J.L. Harned
Eleven-year-old Ethan Smith is a shy, ordinary boy who dislikes math and hard work. As he goes about his days playing computer games, escaping bullies, and living within his imagination, he finds himself wishing something exciting would happen to him. While taking a walk one afternoon, Ethan's wish comes true in a way he never imagined.

He is suddenly kidnapped by an elven horse in an abandoned alley and wakes up in Arkoumene, a strange world populated by cyclopes, dragons, trolls, and evil goblins. The horse-who can speak and whose name is Cara-takes Ethan to a village in the country of Ryon, where he learns that a prince has mysteriously disappeared, the king has been deceived, and enemy soldiers are creeping unnoticed into the land. But when Ethan and his new Ryonian friends accidentally discover the enemy army's logbook during a cave exploration, all of them must embark on a journey across the dangerous countryside to warn the king of the impending attack and expose the truth about the missing prince's fate.

"Arkoumene" is the tale of one boy's mission to save a kingdom from an evil plan as he confronts his fears and realizes that he can be braver than he ever imagined.
Hardcover
0927CR
---