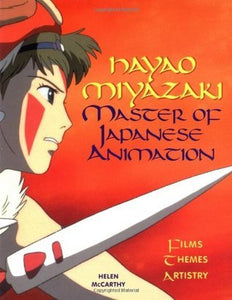 Hayao Miyazaki: Master of Japanese Animation (Used Paperback) - Helen McCarthy
Artist-writer-director-producer Hayao Miyazaki is often called "the Walt Disney of Japan." His animated theatrical features have been smash hits in Japan, and many, including My Neighbor Totoro and Kiki's Delivery Service , are already familiar to American audiences. Now, with Disney-Miramax's imminent release of Princess Mononoke, , Miyazaki's masterwork and one of the top-grossing film in all Japanese history, this "animation master" is about to take America and the world by storm.

Mixing first-hand interview and personal insights with critical evaluations of art, plot, production qualities, and literary themes, McCarthy provides a film-by-film appraisal that examines technique as well as message. She reveals Miyazaki to be not just a master of the art of animation, but a meticulous craftsman who sees his work as a medium for shaping the humanistic and environmental concerns of our times.

An overview of the artist and his early career is followed by in-depth examinations of seven major Miyazaki Nausicaä of the Valley of Wind, Castle in the Sky, Castle of Cagliostro, My Neighbor Totoro, Kiki's Delivery Service, Porco Rosso , and Princess Mononoke . Included are design and technical data, story synopses and character sketches, personnel and filmography data, and critical evaluation. Illustrations throughout, in color and black and white, show the detail and vigor of Miyazaki's art.

Written for anime fans as well as students of film, literature, and popular culture, McCarthy's book raises animation criticism to a whole new level and is an essential guide to the work of a world-class filmmaker.

London-based Helen McCarthy is author of Anime! A Beginner's Guide to Japanese Animation, The Anime Movie Guide , and (with Jonathan Clements) The Erotic Anime Movie Guide . She appears frequently on radio and TV and at conferences around the world.
Cover is creased. Name written inside cover.
0907DS
---