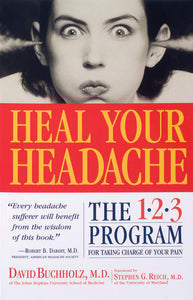 Heal Your Headache: The 1-2-3 Program for Taking Charge of Your Pain (Used Paperback) - David Buccholtz, M.D.
A three-step program that puts headache sufferers back in control of their lives.

"A must read for all individuals with migraine!"—Ronald J. Tusa, M.D., PH.D., Professor of Neurology and Otolaryngology, Dizziness and Balance Center, Emory University

Based on the breakthrough understanding that virtually all headaches are forms of migraine—because migraine is not a specific type of headache, but the built-in mechanism that causes headaches of all kinds, along with neck stiffness, sinus congestion, dizziness, and other problems—Dr. Buchholz's Heal Your Headache offers a simple, transforming program.

Step 1: Avoid the "Quick Fix." Too often painkillers only make matters worse because of the crippling complication known as rebound.
Step 2 : Reduce your triggers. The crux of the program: a migraine diet that eliminate the foods that push headache sufferers over the top.
Step 3: Raise your threshold. When diet and other lifestyle changes aren't enough, preventive medication can help stay the course.

That's it. In three steps, you can turn your headache problems around.

Includes answers to questions like: This title was updated in November 2021 to reflect the latest medical advice.
Paperback
---