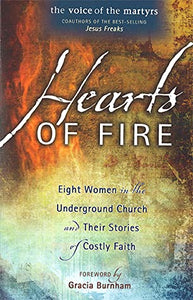 Hearts of Fire: Eight Women in the Underground Church and Their Stories of Costly Faith - The Voice of the Martyrs, Gracia Burnham
Eight women from eight very different backgrounds. Yet the struggles they each faced rang with eerie similarity. These courageous women from across the globe-Pakistan, India, Romania, Former Soviet Union, China, Vietnam, Nepal, Indonesia-shared similar experiences of hardship, subjugation, and persecution, all because of their faith in Christ. Yet all of these women have emerged from adversity as leaders and heroines.

The eight modern-day pilgrims featured in "Hearts of Fire" are the hidden jewels in the church universal. They are worthy role models of faith and passion, and women of every age will gain new strength and hope for their own times of crisis and trial as they read these inspiring stories. Each story concludes with thoughtful self-reflection questions for the reader.
Paperback
---