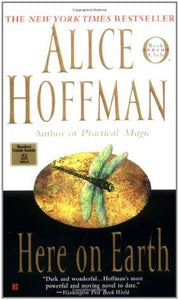 Here on Earth (Used Paperback) - Alice Hoffman
After nearly twenty years of living in California, March Murray, along with her fifteen-year-old daughter, Gwen, returns to the sleepy Massachusetts town where she grew up to attend the funeral of Judith Dale, the beloved housekeeper who raised her. Yet returning to her hometown also brings her back to Hollis, March's former soul mate and lover. March's father had taken the teenaged Hollis, an abandoned child, and the product of a series of detention homes, into his house as a boarder, and treated him like a son. Yet March and Hollis's passionate love was hardly a normal sibling relationship. When Hollis left her after a petty fight, March waited for him three long years, wondering what she had done wrong.
Encountering Hollis again makes March acutely aware of the choices that she has made, and the choices everyone around her has made—including Mrs. Dale, who knew more of love than March could ever have suspected, and her brother Alan, whose tragic history has left him grief-struck, with alcohol as his only solace. Her attraction to Hollis is overwhelming—and March jeopardizes her marriage, her relationship with her daughter and her own happiness in an attempt to reclaim the past.
---