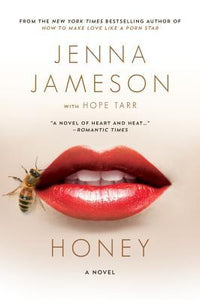 Honey (Used Paperback) - Jenna Jameson
"Honey" Gustafson thought she had it all. As a pampered escort to LA's rich and famous, Honey was living the life she's always dreamed of, privy to a glittering world of wealth and privilege—until the night her fairy tale nearly gets her killed. Battered and bruised, Honey flees to New York, leaving her scarlet past behind her. When a chance encounter with a devastatingly handsome doctor turns into the chance for something more, Honey is sure it's the very last thing she wants or needs. After all, she's had enough pain to last a lifetime.

Growing up in the projects, Marcus Samuels has seen his share of domestic violence. But there's something about the lovely young woman who shows up in his ER that tugs at his heart. When she leaves against his medical advice, Marcus is more than a little worried. Breaking every rule, and likely a law or two, he trails her back to her apartment to make sure she gets home safe. But when his good intentions unleash something deeper than passion between them, can Honey and Marcus overcome their dark pasts to find a second chance at happiness with each other?
0711ML
---