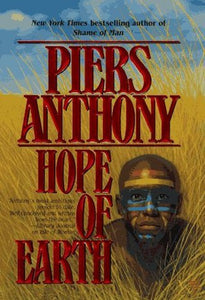 Hope of Earth (Used Book) - Piers Anthony
In a saga that ranges from our ancient beginnings in Africa's Great Rift Valley to the windswept Andes a century from now, Hope of Earth tells the story of a group of men and women, bound by ties of passion, honor, and blood, who struggle to transcend our violent past to make a new and shining future.

Through their eyes we meet some of history's most colorful figures—the mysterious "Ice Man" of the Swiss Alps, the decadent King Herod, the British Warrior Queen Boudica, the Mongol Chieftain Tamurlane, and King Louis XIV of France. And we meet again some of the characters from the two earlier volumes—Blaze and Ember, Hugh and Anne, and their descendants.
Hardcover
0320kSG
---