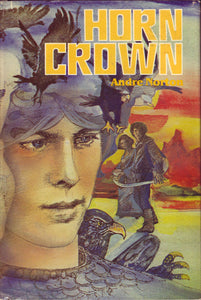 Horn Crown - Andre Norton (Vintage, 1981, HC DJ, BCE)
When the Elder People deserted the Witch World, the cosmic Gate opened and human households migrated in. Though they found the land abandoned, the roads empty and the shrines unattended, they soon became aware that the Old Gods still retained their dread powers.

Elron the Clanless and Gathea the Wise Woman were drawn unwillingly side by side into unexplored realms. Each had a separate quest but their fates were linked by the unknown. Each sought an unholy alliance; each was in conflict with the other.
Hardcover
1122DRH
---