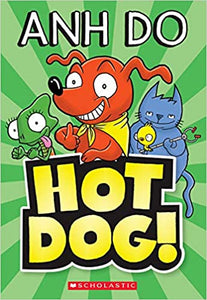 Hot Dog! (Used Paperback Book) - Anh Do
     Meet Hotdog, the wiener dog, and his friends! In this colorful illustrated chapter book series, Anh Do introduces us to a small hero with a big heart.
     Hotdog and his friends are going on a mad adventure to help a baby bird find his missing mom! They'll climb to crazy heights to find her! But can they handle dirty diapers and karate-chopping roosters along the way?
0713DO 
---