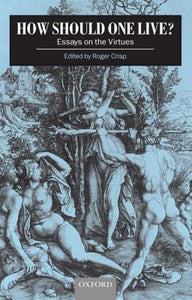 How Should One Live : Essays on the Virtues (Used Paperback) - Roger Crisp
The last few years have seen a remarkable revival of interest in the virtues, which have regained their central role in moral philosophy. This thought-provoking new collection is a much-needed survey of virtue ethics and virtue theory. The specially commissioned articles by an international team of philosophers represent the state of the art in this subject and will set the agenda for future work in the area. The contributors--including Lawrence Blum, John Cottingham, Julia Driver, Rosalind Hursthouse, Terence Irwin, Susan Moller Okin, Onora O'Neill, Michael Slote, Michael Stocker, and David Wiggins--cover practical virtue ethics, ancient views of the virtues, impartiality and partiality, Kant, utilitarianism, human nature, natural and artificial virtues, virtue and the good life, the vices, emotions, politics, feminism, moral education, and community.
Condition: Used book in Very Good condition.
---