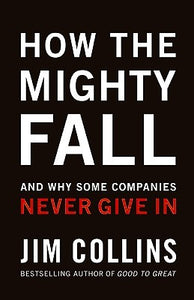 How The Mighty Fall: And Why Some Companies Never Give In (Used Book) - Jim Collins
Amidst the desolate landscape of fallen great companies, Jim Collins began to wonder: How do the mighty fall? Can decline be detected early and avoided? How far can a company fall before the path toward doom becomes inevitable and unshakable? How can companies reverse course?

In How the Mighty Fall, Collins confronts these questions, offering leaders the well-founded hope that they can learn how to stave off decline and, if they find themselves falling, reverse their course. Collins' research project—more than four years in duration—uncovered five step-wise stages of decline:

Stage 1: Hubris Born of Success
Stage 2: Undisciplined Pursuit of More
Stage 3: Denial of Risk and Peril
Stage 4: Grasping for Salvation
Stage 5: Capitulation to Irrelevance or Death

By understanding these stages of decline, leaders can substantially reduce their chances of falling all the way to the bottom. Great companies can stumble, badly, and recover.
Hardcover
---