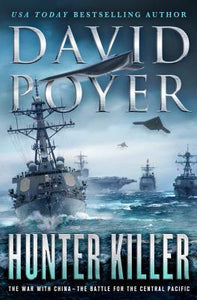 Hunter Killer (Used Book) - David Poyer
The war with China escalates—the dramatic and all-too-real seventeenth novel in the Dan Lenson naval-thriller series.

World War with China explodes in this seventeenth thriller featuring U.S. Navy hero Dan Lenson–newly promoted to admiral, at least for the duration. In Hunter Killer, the United States stands nearly alone in its determination to fight. China's naval and air forces utilize advanced technology and tactical nuclear weapons to devastate America's traditional sea power, while its massive army swiftly forces humiliating treaties on Japan, the Philippines, and other crucial allies.

Commanding a combined US–South Korea force, Lenson wonders if his embattled group can possibly keep sea lanes open in the Central Pacific, to turn the tide and buy time for the Allies to regroup. But when his own flagship comes under ferocious attack, he must leave it to assume command elsewhere—without knowing when he'll be able to return. In the meantime, SEAL operator Teddy Oberg, escaping from a hellish POW camp, heads west through desolate mountains toward what he hopes will be freedom. And in Washington, DC, Dan's wife Blair Titus helps formulate America's military and political response to overwhelming setbacks in the Pacific and at home.

Filled with dramatic battle scenes from massive ship, submarine, and air warfare to desperate hand-to-hand Marine Corps combat, and informed by the author's own background as a Navy captain and defense analyst, Hunter Killer is a powerful, all-too-believable novel about how the next world war might unfold.
Hardcover
0124ML
---