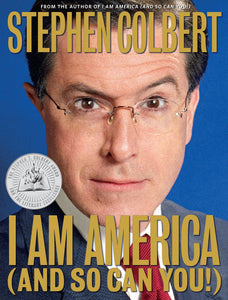 I Am America (And So Can You!) (USED BOOK) - Stephen Colbert
Congratulations--just by opening the cover of this book you became 25% more patriotic.

From Stephen Colbert, the host of television's highest-rated punditry show The Colbert Report, comes the book to fill the other 23½ hours of your day. I Am America (And So Can You!) contains all of the opinions that Stephen doesn't have time to shoehorn into his nightly broadcast.

Dictated directly into a microcassette recorder over a three-day weekend, this book contains Stephen's most deeply held knee-jerk beliefs on The American Family, Race, Religion, Sex, Sports, and many more topics, conveniently arranged in chapter form.

Always controversial and outspoken, Stephen addresses why Hollywood is destroying America by inches, why evolution is a fraud, and why the elderly should be harnessed to millstones.

You may not agree with everything Stephen says, but at the very least, you'll understand that your differing opinion is wrong.
Hardcover
---