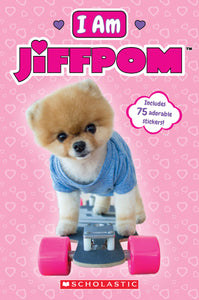 I Am Jiffpom (Used Paperback) - Emily Ball
Follow the adventures of Instagram's cutest pup in this super-adorable book. Full of selfies, stickers, Jiffmojis and activities -- it's cuteness overload guaranteed to bring a smile to your face.

Meet Jiffpom, the adorable celebrity pup all over your Instagram feed! Learn all about this fluffy superstar's favorite hobbies, check out his super-cute selfies, and flip through jiffmojis and fun activities. From "Jiffpom's Guide to the Perfect Selfie" to finding out "Which Jiffpom Are You?", this is a book for anyone who just can't get enough of Jiffpom. 
0625MWL
---