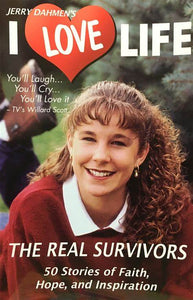 I Love Life: The Real Survivors (Used Paperback) - Jerry Dahmen
If you're feeling down and don't think life is worth living, check out my book titled "I Love Life THE REAL SURVIVORS: 50 Stories of Faith, Hope and Inspiration."
Portion of the proceeds will be donated to the Faith Temple Food Giveaways!
Pastor Jeff Hayes of Faith Temple Church says the stories can be a double means of inspiration—first, through themselves as you read the book and secondly as the proceeds help those in need at the Faith Temple Giveaways.
The book, dedicated to South Dakota cancer victim Tristen Larson Merriman, includes dozens of uplifting stories, including a NASCAR driver who has MS, a blind competitive rodeo bareback rider, an 80-year-old stand up comic and the 9/11 widow who's husband co-piloted the first plane that crashed into the World Trade Center.
In the book, I candidly write about the adversities that rocked my world, thoughts and suicide and my eventual recovery from despair and hopelessness.
---