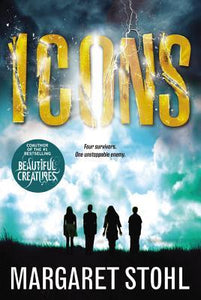 Icons (Used Book) - Margaret Stohl
Everything changed on The Day. The day the Icon appeared in Los Angeles. The day the power stopped. The day Dol's family dropped dead. The day Earth lost a war it didn't know it was fighting.

Since then, Dol has lived a simple life in the countryside with fellow survivor Ro-safe from the shadow of the Icon and its terrifying power. Hiding from the one truth she can't avoid. 
They're different. They survived. Why?

When the government discovers their secret, they are forced to join faint-hearted Tima and charismatic Lucas in captivity. Called the Icon Children, the four are the only humans on Earth immune to the power of the Icons. Torn between brooding Ro and her evolving feelings for Lucas, between a past and a future, Dol's heart has never been more vulnerable. And as tensions escalate, the Icon Children discover that their explosive emotions-which they've always thought to be their greatest weaknesses-may actually be their greatest strengths.

Icons #1
Paperback
0727LO
---