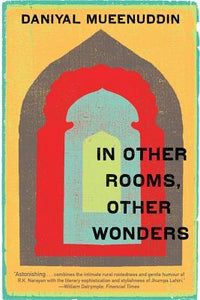 In Other Rooms, Other Wonders (Used Paperback) - Daniyal Mueenuddin
"The rural rootedness and gentle humour of R.K. Narayan with the literary sophistication and stylishness of Jhumpa Lahiri."—Financial Times

Passing from the mannered drawing rooms of Pakistan's cities to the harsh mud villages beyond, Daniyal Mueenuddin's linked stories describe the interwoven lives of an aging feudal landowner, his servants and managers, and his extended family, industrialists who have lost touch with the land. In the spirit of Joyce's Dubliners and Turgenev's A Sportsman's Sketches, these stories comprehensively illuminate a world, describing members of parliament and farm workers, Islamabad society girls and desperate servant women. A hard-driven politician at the height of his powers falls critically ill and seeks to perpetuate his legacy; a girl from a declining Lahori family becomes a wealthy relative's mistress, thinking there will be no cost; an electrician confronts a violent assailant in order to protect his most valuable possession; a maidservant who advances herself through sexual favors unexpectedly falls in love.

Together the stories in In Other Rooms, Other Wonders make up a vivid portrait of feudal Pakistan, describing the advantages and constraints of social station, the dissolution of old ways, and the shock of change. Refined, sensuous, by turn humorous, elegiac, and tragic, Mueenuddin evokes the complexities of the Pakistani feudal order as it is undermined and transformed.
Paperback
---