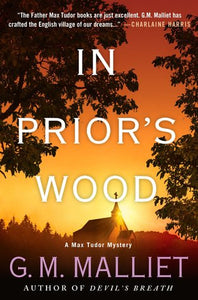 In Prior's Wood (Used Book) - G. M. Malliet
Newly returned from investigating a murder in Monkslip-super-Mare, handsome Max Tudor wants nothing more than to settle back into his predictable routine as vicar of St. Edwold's Church in the village of Nether Monkslip. But the flow of his sermon on Bathsheba is interrupted when the lady of the local manor house is found in a suicide pact with her young lover.

Lady Duxter's husband rallies quickly from the double tragedy―too quickly, it is murmured in the village. Lord Duxter already has offered his manor house to a motley crew of writers, including Max's wife Awena, for his writers' retreat, and he insists the show must go on.

When a young girl goes missing and a crime writer becomes a target, DCI Cotton asks Max to lend his MI5 expertise to the investigation.

Many suspects emerge as the scope of the investigation widens beyond the writers to villagers who had crossed swords with the insufferably smug crime author. But Max begins to wonder: was the attack on the writer only part of a broader conspiracy of silence?
Hardcover
0119MWL
---