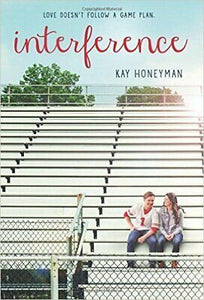 Interference (Used Book) - Kay Honeyman
I will not get involved…I will not get involved…I will not get involved…

As a congressman's daughter in Washington, DC, Kate Hamilton always pushes to make things right. But when a scandal sends her family to Red Dirt, Texas, she decides to step back for a while. She'll take pictures for her portfolio. She'll volunteer at her aunt's animal shelter. And most of all, she'll stay out of politics (including her father's latest election) and away from guys (especially after her ex's betrayal).

But…

If Kate's political skills can be useful in Red Dirt, should she really let them go to waste? After all, her friend Ana Gomez and quarterback Kyle Stone would be a perfect match. Her dad's campaign could benefit from a teenage perspective. The irritatingly handsome Hunter Price should learn he doesn't know everything…When Kate's plans backfire, she must find the soul beneath her DC spin, and risk her heart—the biggest involvement of all.
Paperback 
1018CR
---