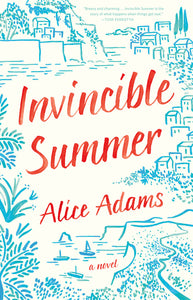 Invincible Summer (Used Hardcover) - Alice Adams
Four friends. Twenty years. One unexpected journey. Inseparable throughout college, Eva, Benedict, Sylvie, and Lucien graduate in 1997, into an exhilarating world on the brink of a new millennium. Hopelessly in love with playboy Lucien and eager to shrug off the socialist politics of her upbringing, Eva breaks away to work for a big bank. Benedict, a budding scientist who's pined for Eva for years, stays on to complete his PhD in physics, devoting his life to chasing particles as elusive as the object of his affection. Siblings Sylvie and Lucien, never much inclined toward mortgages or monogamy, pursue more bohemian existences-she as an aspiring artist and he as a club promoter and professional partyer. But as their twenties give way to their thirties, the group struggles to navigate their thwarted dreams. Scattered across Europe and no longer convinced they are truly the masters of their fates, the once close-knit friends find themselves filled with longing for their youth- and for one another. Broken hearts and broken careers draw the foursome together again, but in ways they never could have imagined.

A dazzling depiction of the highs and lows of adulthood, Invincible Summer is a story about finding the courage to carry on in the wake of disappointment, and a powerful testament to love and friendship as the constants in an ever-changing world.
0620ML
---