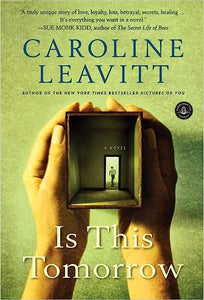 Is This Tomorrow (Used Paperback) - Caroline Leavitt
In 1956, Ava Lark rents a house with her twelve-year-old son, Lewis, in a desirable Boston suburb. Ava is beautiful, divorced, Jewish, and a working mom. She finds her neighbors less than welcoming. Lewis yearns for his absent father, befriending the only other fatherless kids: Jimmy and Rose. One afternoon, Jimmy goes missing. The neighborhood―in the throes of Cold War paranoia―seizes the opportunity to further ostracize Ava and her son.

Years later, when Lewis and Rose reunite to untangle the final pieces of the tragic puzzle, they must decide: Should you tell the truth even if it hurts those you love, or should some secrets remain buried?
0613ML
---