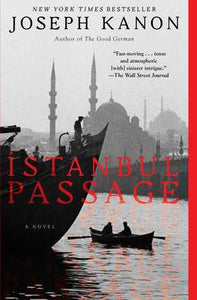 Istanbul Passage (Used Hardcover) - Joseph Kanon
A neutral capital straddling Europe and Asia, Istanbul has spent the war as a magnet for refugees and spies. Even American businessman Leon Bauer has been drawn into this shadow world, doing undercover odd jobs and courier runs for the Allied war effort. Now as the espionage community begins to pack up and an apprehensive city prepares for the grim realities of post-war life, he is given one more assignment, a routine job that goes fatally wrong, plunging him into a tangle of intrigue and moral confusion.
Played out against the bazaars and mosques and faded mansions of this knowing, ancient Ottoman city, Leon's attempt to save one life leads to a desperate manhunt and a maze of shifting loyalties that threatens his own. How do you do the right thing when there are only bad choices to make? Istanbul Passage is the story of a man swept up in the aftermath of war, an unexpected love affair, and a city as deceptive as the calm surface waters of the Bosphorus that divides it.
Rich with atmosphere and period detail, Joseph Kanon's latest novel flawlessly blends fact and fiction into a haunting thriller about the dawn of the Cold War, once again proving why Kanon has been hailed as the "heir apparent to Graham Greene" (The Boston Globe).
---